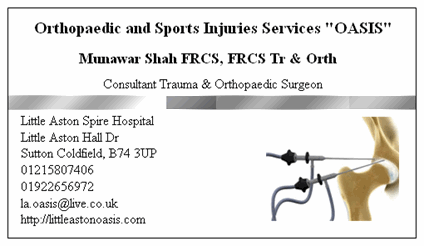 PROFORMA MEDICO-LEGAL CURRICULUM VITAE
NAME: Mr. Manawar Shah
​
DATE OF BIRTH: 01/01/1962.
​
CONTACT DETAILS: Sec to MR M Shah – Consultant Orthopaedic Surgeon Walsall Healthcare NHS Trust, Walsall Manor Hospital, Moat Road, Walsall, WS2 9PS
​
PHONE: 01922721172 ext. 7699
​
FAX 01922656836
​
EMAIL: sec.shah@walsallhealthcare.nhs.uk
YEAR FIRST APPOINTED AS A CONSULTANT: 2004
​
GMC NUMBER: 4664338
​
MEDICO-LEGAL EXPERIENCE
​
I have undertaken medico legal work since 2004 and have attended numerous medico legal courses to keep myself up to date I have prepared medico-legal reports based on instructions from claimant, defendant and as a upper limb expert, drawing upon my expertise in shoulder and elbow surgery, sports injury and orthopaedic trauma. I also have familiarity in dealing with low velocity impact cases and Delta-V assessment.
I have attended training in expert witness report writing organised by Bond Solon.
Interviews and examinations can be carried out in Walsall. We aim to see patients within 2-4 weeks and have the completed report returned within 7 working days, on average – documentation permitting.
SPECIAL SKILLS:
I am happy to see patients with general trauma and orthopaedic conditions, including back pain, whiplash, arthritis, post fracture of bones or soft tissue injuries, or complications of such injuries.
My area of special interest is trauma, Upper limb, work related injuries and orthopaedic problems in the young patient.
EDUCATION AND QUALIFICATIONS:
1986 MBBS Sind Medical College, Karachi
1995 FRCS Royal College of Surgeons in Ireland
2003 FRCS (Trauma and Orthopaedics)
2011 RCS Surgical Tutor
​
TRAINING:
1995 – 1999 West Midlands Specialist Higher Orthopaedic Training Programme
2000 – 2001 Fellow Shoulder & Trauma Southampton University Hospital
2002 – 2002 Fellow Hands & Trauma Southampton University Hospital
2003 – 2003 Fellow Soft Tissue service Sheffield University Hospital
2003 – 2004 Fellow Elbow service Sheffield University Hospital
​
PROFESSIONAL AFFILIATIONS:
Medical Protection society
British Shoulder and Elbow Society British Medical Association
Royal College of Surgeons of Ireland British Orthopaedic Association
​
PRESENT APPOINTMENT:
I am a Consultant Trauma and Orthopaedic Surgeon at Manor Hospital. Walsall. The Department has a heavy trauma workload involving treatment of the multiple injured patients.
Given our trauma workload and expertise, the department has fostered links with the AO
Trauma implants company with a regular overseas visiting fellow (both nurses and doctors).
My elective orthopaedic practices cover general orthopaedic cases, Sports injuries , soft tissue reconstruction and upper limb work